Hello everyone!

How are you all doing? Are you getting excited? I hope so, cause we're nearing the month mark!

But! Because it's getting so close, and I know ALOT of questions are going to start up soon, I want to get stuff super organized SUPER FAST.

So, guess what? Thanks to a collaboration with the moderator over at American Red Sea forum, I will be moving all coordination to that forum. Why? Because it's easier to organize no more scrolling through forums. For those of you who have been with me on this since the beginning you know how much I want this to succeed. Not only do I want people to have fun amd meet each other, but I want to be an organized mass of...red. I want those five boys we love so much to walk out and know we're there. And how will we achieve that? With organization!

This forum will STILL be open, but for the major organizational stuff, we'll have it over at the other website. For big updates, I will update here, still. But a forum is just MUCH easier.

So...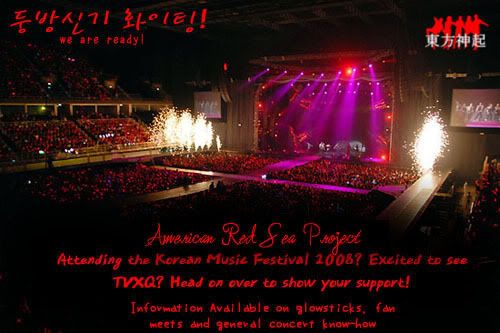 PLEASE JOIN WITH THE SAME NAME AS YOUR LJ HANDLE. if you wanna make it easy to organize, that is. Also, when you join, you may notice that there are not too many forum threads up....be patient and check back.

Also, I know several of you were willing to give money to a fund for glow sticks. Well, guess what? The wonderful mod over there has a biiiig donation thing going. GO HELP.

ps. i'm so proud of you guys?